NTI Introduces HDMI HDBase-T Extender with IR via One CAT5/6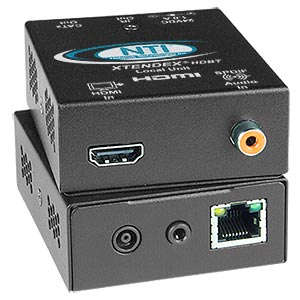 XTENDEX® ST-C6HD-DA-HDBT (Local and Remote Units)
AURORA, OH: Network Technologies Inc (NTI) introduces HDMI HDBase-T extender with IR via one CAT5/6 to its popular line of video extenders.
The HDMI HDBase-T extender transmits an uncompressed high speed digital HDMI signal, IR, and optional SPDIF digital audio up to 328 feet over a single CAT5e/6/7 cable using HDBase-T technology. The units support HDTV resolutions up to 1080p and computer resolutions up to 4K x 2K (3840x2160 and 4096x2160) with a bandwidth of 3.4GHz. The XTENDEX HDMI HDBase-T extenders support 3D video and are HDCP compliant. Each video extender consists of a local unit that connects to an HDMI source and IR emitter; and a remote unit that connects to an HDMI display, IR receiver, and optional SPDIF speakers.
The XTENDEX HDMI HDBase-T extender gives full infrared remote (IR) control of the HDMI source from the remote HDTV using the existing source remote control. The unit supports 48-bit deep color in the following color spaces x.v.Color, sYCC601 color, Adobe RGB Color and Adobe YCC601 color. It supports digital audio formats including Dolby TrueHD, DTS-HD Master Audio, Dolby Digital, and DTS and supports lip sync.
The XTENDEX HDMI HDBase-T extender supports CEC (consumer electronic control) compatible devices and the DDC2B protocol. The high quality, rugged steel constructed unit with durable powder coat finish can be easily connected and can be placed in a concealed location due to its compact size. Only one power supply is necessary to power both the local and remote units.
Available for immediate sale, the XTENDEX HDMI HDBase-T extenders with IR via one CAT5/6 cost between $480 and $500.
For more information on NTI's XTENDEX HDMI HDBase-T Extenders with IR via One CAT5/6, visit:
http://www.networktechinc.com/extend-hdmi-hdbaset.html
About Network Technologies Inc
Network Technologies Inc (NTI), based in Aurora, OH (USA), is a leading global provider of high quality IT infrastructure management solutions. NTI products are used worldwide by leading companies in every industry, including manufacturing, retail, government, education, healthcare, financial services, entertainment, worship, broadcast, and telecommunications. Visit us on the web at
www.networktechinc.com
.