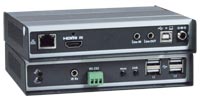 ST-IPUSB4K-VW
- The XTENDEX® 4K HDMI USB KVM Over IP Extender provides remote KVM (USB keyboard, USB mouse, and 4Kx2K HDMI monitor) access to a USB computer up to 400 feet (122 meters) over a Gigabit network using a single CAT5e/6 cable. The extender consists of the ST-IPUSB4K-L-VW local unit that connects to a computer and the ST-IPUSB4K-R-VW remote unit that connects to an HDMI monitor, 3.5mm stereo audio speakers and microphone, and up to four USB devices (keyboard, mouse, flashdrive, HDD, or touchscreen display).
Downloads & References
NOTE:
Transmitters and receivers must all be running the same version of firmware for them to work with each other.