USB KVM Cables & USB Adapters
Also known as: All-in-1 USB VGA KVM cables, USB PS/2 Adapters, USB SUN adapter, USB Audio Converter
VGA USB KVM Cables
VGA USB KVM Extension Cable, Male-to-Female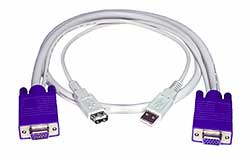 Extends a VGA monitor and USB device up to 10 feet.
No Ghosting & No Degradation-Guaranteed.
All-in-1 KVM cable.
Makes connections and set-ups neat and easy.
Gold plated contacts.
Triple shielded for noise reduction.
The shield consists of Mylar foil, braided shield and drain wire.

Drain wire and braid connected to connector shell.

Use to connect from back of computer to KVM switch.
Supports 1920x1200 (WUXGA) video resolution up to 10 feet.
Male 15HD, male USB Type A to female 15HD, female USB Type A extension USBVEXT-xx.
Available in: 3/10 feet.
USB Adapters
USB PS/2 Adapter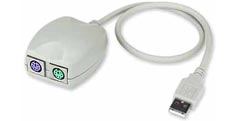 Connects VPI legacy KVM switches to PS/2 with USB port.
Supports two PS/2 devices (Keyboard and Mouse) and converts to the USB Interface (PC, MAC or SUN).
Converts the user USB port of a VPI USB KVM Switch to a PS/2 (Keyboard and Mouse).
Converts the PC PS/2 port of a VPI KVM switch to a USB port (PC, MAC or SUN).
No software driver is needed.
No power adapter is needed.
Supports standard PS/2 mouse, IntelliMouse®.
Compatible with USB 1.0 and 1.1 Specification.
Support UHCI and OHCI USB Interface.
Transfer Rate is 1.5 Mbps.
System Requirements

Windows 98/ME/2000/NT/XP.
Netware 4.11, 5.0, HP Unix, Linux.
Apple computer G4 and Xserve MAC O.S. 9/X.
SUN Microsystems with USB interface (Sun Stop-A, Stop-D, Stop-F & Stop-N keys and SUN Power-Up are not supported.)
Downloads & References
USB to SUN Adapter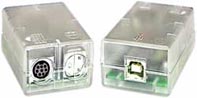 Connect a USB-enabled SUN computer (SUN Blade 100, 1000, SUN Fire™ 280R and SUN Ray) to a KVM switch with the USB-SUN Adapter.
Fully supports special keys on SUN keyboards.
Size WxDxH: 2.5x1.6x1 inches.
Female 8-pin miniDIN and female USB Type B connector.
PS/2 to USB Adapter
Connect legacy PS/2 computer to NTI USB switch.
Connect USB keyboard and mouse to legacy PS/2 computer.
Support for USB 1.1 Specification.
Powered by the CPU it is connected to.
Legacy SUN to USB Adapter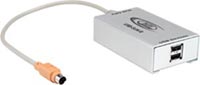 Connect legacy SUN computer to NTI USB switch.
Connect SUN USB keyboard and mouse to legacy SUN computer.
Sun extra keys are emulated when using a PS/2 or MAC layout keyboard.
Support for USB 1.1 Specification.
Powered by the CPU it is connected to.
USB to Audio Adapter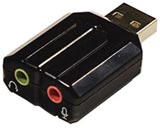 The USB-AUDIO adapter allows you to link your sound to a PC or MAC through the USB port instead of a sound card. Just plug in your headphones or speakers into the adapter and plug the adapter into a USB port.
Connect 3.5mm stereo audio speakers or headphones to USB port.
Stereo analog output - connect headphones or powered speakers to your PC or laptop.
Mono analog microphone input.
Compliant with USB 2.0 full speed operation.
Compliant with USB audio device class specification v1.0.
Compatible with Windows 98/ME/2000/XP/Server 2003/Vista/7, and MAC OS 10 and higher.
No external power adapter required.
LED indicators:

Activity
Microphone-Mute status

Plug and play functionality – no drivers required.

Mac OS X: device is recognized as "Generic Speaker/Microphone". Navigate to System Preferences > Sound Settings and select this device as the Output device.