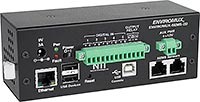 ENVIROMUX-2D
- The ENVIROMUX® Small Enterprise Environment Monitoring System monitors critical environmental conditions (such as temperature, humidity, and water leakage) that could destroy network components in your server room. When a sensor goes out of range of a configurable threshold, the system will notify you via email, SNMP traps, web-page alerts, a visual indicator (red LED), voice phone calls (via Automatic Voice Dialer System), and SMS messages (via USB 3G modem).
WARNING:
When performing the firmware upgrade to the ENVIROMUX unit, we recommend using Windows Internet Explorer to access through the Web Interface, and the transfer
must
be from a PC on the same subnet as the ENVIROMUX unit.
Note: To download Firmware updates, right click the update link and select 'Save Link As' or 'Save Target As'. Make sure that the file is saved with the correct file extension.
USB Drivers Version
USB Drivers Download
Release Date
1.0
usb-drivers.zip
(29.7 KB)
2012-04-06

Discovery Tool Version
Discovery Tool Download
Release Date
1.0
discovery.zip
(14 KB)
2014-01-31