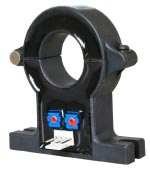 Measures both AC and DC currents using a split-core system.

Available rated currents: 30A, 50A, 100A, 200A, and 500A.

Contact an NTI product consultant for other available ratings between 30A and 500A.

Common applications include: monitoring AC variable speed drives, static converters for DC motor drives, battery supplied applications, uninterruptible power supplies (UPS), switched mode power supplies (SMPS), electrochemical systems, and power supplies for welding applications.
Includes a 7ft 4-wire cable for connecting to the E-ACDCLM or E-DCLM-6.

To extend the distance between the hall-effect sensor and the E-ACDCLM or E-DCLM-6, simply connect longer wires (22AWG) using the included splices.

It is recommended to place the E-ACDCLM or E-DCLM-6 as close to the hall-effect sensor as possible. The E-ACDCLM and E-DCLM-6 can be placed up to 1000 ft away from the E-2D/5D/16D unit using CAT5/5e/6 cable.

Loop diameter: 0.83" (21mm).
Response time: ≤5µS @ 50A/µ S, 10%-90%.
Galvanic isolation: 2.5KV @ 50Hz, AC, 1min.
Supply voltage: ±12V, ±15V.
Output voltage: ±4V.
Power consumption: ≤25mA.
Comes with two 0.2" (5mm) diameter open-slotted mounting holes.
Dimensions WxDxH (in): 2.36x0.63x2.40 (60x16x61mm).
Operating temperature: -40 to 185°F (-40 to 85°C).
Storage temperature: -40 to 257°F (-40 to 125°C).
Requires E-ACDCLM AC & DC Voltage & Current Monitor or E-DCLM-6 DC Line Monitor to connect to an E-2D/5D/16D Environment Monitoring System.
Contact an NTI product consultant for hall-effect sensors in other sizes and ratings.