Environment Monitoring System IP Surveillance Cameras
IP Cameras compatible with ENVIROMUX® E-2D, E-5D and E-16D
IP Surveillance Cameras
High-Definition Wireless/Wired Day/Night Pan/Tilt IP Camera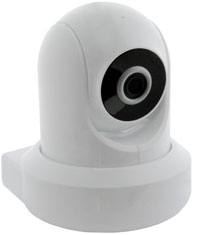 View the camera from the ENVIROMUX web interface, camera web interface, included software, or with a compatible cell phone.
With the E-2D/5D/16D, a triggered snapshot can be forwarded in alert e-mails or stored locally on a connected flash drive.

A snapshot can be triggered by any programmed event (motion detection, door open/close, glass break, smoke, liquid detection, etc.)
ONVIF authentication must be disabled on the camera.

Two-way audio with built-in microphone and speaker.
IR night vision supported up to 32.8 feet (10 m).
1/2.7" Progressive Scan CMOS sensor.
Video codecs/Resolution:

H.264/H.264B/H.265: 1920x1080 up to 30fps
MJPEG: 1920x1080 up to 30fps

Lens: 4 mm (0.16 in).
Supports wireless 802.11b/g/n.
Viewing Angle: 90°
Pan and tilt:
Built-in motion detection.

Camera sends snapshots via email when motion is detected.

Power:

Input: 100 to 240 VAC at 50 or 60 Hz
Output: 5VDC, 1.5A external power adapter

10/100 Mbps Ethernet port for wired connections.
Environmental

Operating temperature: 14 to 113°F (-10 to 45°C).
Operating humidity: Up to 95% non-condensing RH.

Dimensions WxDxH: 4.66x3.94x4.13 in (118x100x105 mm).
Compatible with the E-2D/5D/16D.
Mounting hardware included.
Regulatory approvals:

CE, FCC, RoHS.
TAA Compliant
Downloads & References
Ultra-HD Wired Day/Night Outdoor Bullet IP Camera with Power over Ethernet (POE)
View the camera from the ENVIROMUX web interface, camera web interface, included software, or with a compatible cell phone.
With the E-2D/5D/16D, a triggered snapshot can be forwarded in alert emails or stored locally on a connected flash drive.

A snapshot can be triggered by any programmed event (motion detection, door open/close, glass break, smoke, liquid detection, etc.)
ONVIF authentication must be disabled on the camera.
IR night vision supported up to 98.4 feet (30 m).
1/2.7" 5-Megapixel Progressive Scan CMOS sensor.
Video Compression: H.265, H.264
Max resolution and frame rate:

Main stream: 2592x1944 up to 20 fps, 2688x1520 up to 30 fps
Sub stream: 704x576 up to 25 fps, 704x480 up to 30 fps

Lens: 2.8 mm (0.11 in).
Viewing Angle: 103°
System compatibility: ONVIF
Built-in motion detection.

Auto-patrol preset positions: 4.
Camera sends snapshots via email when motion is detected.

10/100 Mbps Ethernet port for wired connections.
Power:

Input: 100 to 240 VAC at 50 or 60 Hz
Output: 12 VDC, 1A external power adapter (included)
Max consumption: 5.6 W
Power over Ethernet standards supported: IEEE 802.3af

Operating and storage temperature: -40 to 140°F (-40 to 60°C).
Dimensions WxDxH: 2.76x6.54x2.76 in (70x166x70 mm).
Waterproof rating: IP67
Compatible with the E-2D/5D/16D.
Mounting hardware included.
Regulatory approvals: CE, FCC, RoHS.
Downloads & References
High-Definition Wired Day/Night Pan/Tilt Outdoor IP Dome Camera with Power over Ethernet (PoE)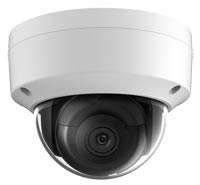 View the camera from the ENVIROMUX web interface, camera web interface, included software, or with a compatible cell phone.

Control the camera using the camera web interface accessible from the ENVIROMUX web interface.

With the E-2D/5D/16D, a triggered snapshot can be forwarded in alert e-mails or stored locally on a connected flash drive.

A snapshot can be triggered by any programmed event (motion detection, door open/close, glass break, smoke, liquid detection, etc.)

1/2.8" Progressive Scan CMOS
Video Compression: H.265/H.264/MJPEG

Supports three simultaneous video streams

2MP resolution @ 30 fps

Supports 1920x1080, 1280x960, 1280x720

Night Vision IR Range: 98 feet ( 30 m)
Lens: 4 mm (0.16 in)
Viewing angle: 86.4°
Pan: 0 to 355°
Tilt: 0 to 75°
Rotate: 0 to 355°
Power:

Input: 100 to 240 VAC at 50 or 60 Hz
Output: 12 VDC, 1A external power adapter (included)
Max consumption: 5 W
Power over Ethernet standards supported: IEEE 802.3af

10/100 Mbps Ethernet port for wired connections.
Micro SD memory card slot (up to 128 GB)
System compatibility: ONVIF, ISAPI, SDK, Ehome
Operating temperature: -22 to 140°F (-30 to 60°C).
Dimensions WxH: 4.37x3.24" (111x82 mm)
Waterproof rating: IP67 (camera housing only)
Compatible with E-2D/5D/16D.
Regulatory approvals: CE, FCC, RoHS
Downloads & References