Environment Monitoring System Motion Detectors
Motion/Intrusion/Vibration Sensors Compatible with ENVIROMUX® E-MINI-LXO &
PWR-RMT-RBT-C13
Motion Detector Sensors
Low-Cost Infrared Motion Sensor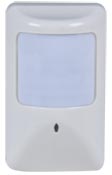 Registers movement in area covered: 39x39 ft (12x12 m), 110° wide.
Condition display via LED.
Intelligent logic control prevents false alarms.
Wall mount or hang in a corner.
Good RFI protection.
Screw terminal

To connect to the digital inputs use a 22 AWG 2-wire cable. Connect the other end to the sensor screw terminal.

Maximum cable length: 1,000 ft (305 m).
Includes 12V/1A power supply.
Operating temperature: 14 to 122°F (-10 to 50°C)
Includes mounting bracket for installing the sensor to a ceiling or wall.
Compatible with E-MINI-LXO and PWR-RMT-RBT-C13.
Downloads & References
Ceiling Mount Motion Detector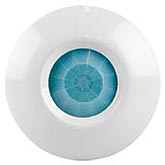 Detects movement across the detection field.
360° detection pattern.
113° conical detection angle from ceiling.
Registers movement in area covered: 36 ft (11 m) diameter, 12 ft (3.6 m) from ceiling.
Provides substantial immunity to false alarms caused by environmental disturbances.
Pulse count or single shot triggering.
Good RFI protection
Screw terminal

To connect to the digital inputs use a 22 AWG 2-wire cable. Connect the other end to the sensor screw terminal.

Maximum cable length: 1,000 ft (305 m).
Includes 12V/1A power supply.
Compatible with E-MINI-LXO and PWR-RMT-RBT-C13.
Regulatory approvals: CE, RoHS
Downloads & References