Environment Monitoring System Pressure Sensors
Pressure Sensor Transmitters compatible with ENVIROMUX® E-2D, E-5D and E-16D
Pressure Sensor Transmitter, 0 to 500 psi

Measure the pressure in a multitude of processes from hydraulic oils to chemicals. Ideal for compressors, pumping systems, irrigation system pressure, industrial process monitoring, hydraulic.
Pressure Limits:

Range: 0 to 500 psi
Max Pressure: 1000 psi
Over Pressure: 2500 psi

Requires the E-S5VDC sensor converter to operate with E-2D/5D/16D.
Service: Compatible with gases and liquids
Wetted Materials: Type 316L SS
Accuracy: 1.0% FS; 0.5% RSS
Temperature Limit: 0 to 200°F (-18 to 93°C).
Compensation Temperature Range: 0 to 175°F (-18 to 79°C).
Thermal Effect: ±0.02% FS/°F (includes zero and span)
Power Requirements: 10 to 30 VDC
Current Consumption: 10 mA maximum
Output Signal: 0 to 5 VDC
Response Time: 300 ms
Loop Resistance: 5K Ohms
Stability: 1.0% FS/year (Typ.).
Electrical Connection: Cable gland with 3 ? of prewired cable
Process Connection: 1/2" male NPT
Enclosure Rating: Nema 4X (IP65)
Mounting Orientation: Mount in any position
Regulatory Approvals: CE
A wide range of models and connections that can meet pressure measurement specifications from low to very high are available. Contact an NTI product consultant for details.
Downloads & References
Intrinsically Safe Pressure Sensor Transmitter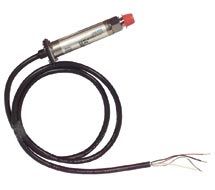 Monitor pressures in explosive atmospheres with barrier.
Suitable for use in hazardous areas - Class 1 Division 1, intrinsically safe rating
Pressure Range:

E-PST100IS: 0 to 100 psig
E-PST200IS: 0 to 200 psig
E-PST500IS: 0 to 500 psig
E-PST1000IS: 0 to 1000 psig
E-PST3000IS: 0 to 3000 psig

Process Connection: 1'8" BNPT male 316 stainless steel
Requires the E-S420MA-24V to operate with E-2D/5D/16D.

Maximum cable length: 1000 ft (305m)

Requires an E-ISZB Intrinsically Safe Barrier when used in hazardous locations.
Powered by E-2D/5D/16D.
Downloads & References