Environment Monitoring System 1-Wire RTD Transmitters/Sensors
1-Wire RTD Transmitters & Temperature Sensors Compatible with ENVIROMUX® E-1W
RTD Transmitters | RTD Sensors
PT100 RTD Transmitters
100 Ohm Platinum RTD 1-Wire Transmitter, -328 to 1562°F (-200 to 850°C)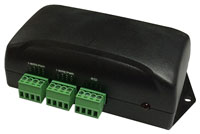 Use to connect 100 Ohm platinum RTD temperature sensors to the E-1W.
RTD Temperature Sensor Input Range: -328 to 1562°F (-200 to 850°C)
Accurate to within ±0.09% x°F (±0.05% x°C)

If the connected RTD sensor does not support this high of accuracy, the system will revert to the accuracy of the sensor.

Configuration: 4-wire connection
Sensor Element: 100Ω platinum
Signal Output: 1-Wire communication protocol
Integrated mounting brackets for easy surface/wall mounting.
Dimensions WxDxH: 4.11x2.23x1.59 in (104x57x40 mm)
Operating temperature: -40 to 185°F (-40 to 85°C).
TAA compliant.
Compatible with E-1W.

Each E-RTDT1W-1562 counts as a single reading sensor.
Up to 24 RTD transmitters can be used with the E-1W.

Powered by E-1W.
Downloads & References
PT100 RTD Sensors
Mini Probe 100 Ohm RTD Sensor, -319 to 482°F (-195 to 250°C), 4-Wire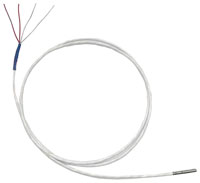 Applications from -319 to 482°F (-195 to 250°C).
Accurate to within ±0.27% x°F (±0.15% x°C).
Probe size: 0.12" (3 mm) round x 0.79" (20 mm) long stainless steel housing.
Cable length: 3.28 ft (1 m) 4-wire lead.
PT100, Type A, 385 curve
Requires the E-RTDT1W-1562 to operate with the E-1W.
Downloads & References