Environment Monitoring System Tamper Switch & Emergency/Panic Button
Motion/Intrusion/Vibration Sensors Compatible with ENVIROMUX® E-MINI-LXO, E-MICRO &
PWR-RMT-RBT-C13
Tamper Switch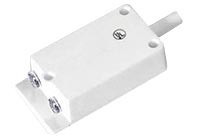 Tamper switch for drawers and alarm boxes.
Sends activation signal when tamper switch is released.
Silver-plated contacts ensure reliable long-term operation.
High-impact white plastic case, screw terminals.
Maximum cable length: 1,000 ft (305 m).
Normally-open contacts at rest, closed contacts when depressed.
Operating temperature: -13 to 158°F (-25 to 70°C ).
Dimensions (WxDxH): 2.74x1.12x0.63 in (70x28x16 mm)
2-wire interface.
Compatible with E-MINI-LXO, E-MICRO, and PWR-RMT-RBT-C13.
Downloads & References
Emergency/Panic Button

Sends activation signal when button is pressed.
Maximum cable length: 1,000 ft (305 m).
For normally closed or normally open circuit connections.
2-wire interface.
Screw terminal.
Maximum cable length: 1,000 ft (305 m).
Dimensions WxDxH: 0.9x0.6x3 in (23x14x76 mm)
Compatible with E-MINI-LXO, E-MICRO, and PWR-RMT-RBT-C13.
Regulatory approvals: RoHS
Downloads & References