Environment Monitoring System USB & Serial Modems
Alert & Communication Accessories compatible with ENVIROMUX® E-2D, E-5D and E-16D
Modems
USB 3G Modem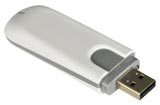 Sends SMS text messages to a pager or cell phone when a sensor goes out of range of a configurable threshold.
Use to access the ENVIROMUX web interface.

The SIM card must have a "public" IP address for full control of the
E-2D/5D/16 through the modem.

SIM card supporting SMS messaging required (not included).
Supports third generation (3G) digital cellular standards.
USB 2.0 stick with Male USB Type A connector
3G network band: HSPA+/HSUPA/HSDPA/HSPA/UMTS(WCDMA)-2100 MHz.
2G network band: GSM/GPRS/EDGE-850/900/1800/1900 MHz
When connected to the ENVIROMUX system, protrudes 2.68" from the edge of the case.
Compatible with E-2D/5D/16D.

Not compatible with E-SEMS-16U.

Will ship with either a white or black case.
Downloads & References