Environment Monitoring System Alarm Beacons
Alert & Communications Accessories Compatible with ENVIROMUX® E-MINI-LXO &
PWR-RMT-RBT-C13
Alarm Beacons
Alarm Beacon with Power Supply – Small: 2.75x1.69 in (70x43 mm)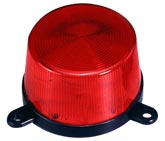 Emits flashing red light when activated
Flash Rate: 90 per minute
2-wire interface
Input voltage: 12VDC
Power consumption: 3W
Maximum cable length: 500 ft (152 m)
Dimensions WxH: 2.75x1.69 in (70x43 mm)
Includes 12V/1A country-specific power supply.
Material: ABS resin base, polycarbonate/acrylic lens
Compatible with E-MINI-LXO and PWR-RMT-RBT-C13.
Operating temperature: -22 to 140°F (-30 to 60°C)
Regulatory approvals: RoHS
Downloads & References
Alarm Beacon with Power Supply – Large: 3.94x3.46 in (100x88 mm)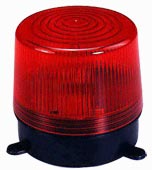 Emits flashing red light when activated
Flash Rate: 75 per minute
2-wire interface
Input voltage: 12VDC
Power consumption: 10W
Maximum cable length: 500 ft (152 m)
Dimensions WxH: 3.94x3.46 in (100x88 mm)
Includes 12V/1A country-specific power supply.
Material: ABS resin base, polycarbonate/acrylic lens
Compatible with E-MINI-LXO and PWR-RMT-RBT-C13.
Operating temperature: -22 to 140°F (-30 to 60°C)
Regulatory approvals: RoHS
IP65 Indoor/Outdoor Piezo Siren with LED Strobe Beacon, 110 dB, Powered
Simultaneously emits a loud continuous tone and a flashing LED strobe light to deter intruders or alert personnel.
Available with a red or blue lens.
Beacon flash rate: 300 per minute.
Piezo siren output level: 110 dB at 1 foot.
Weatherproof enclosure.

IP65-rated water and dust protection.

Mounts in single-gang box or surface-mount (2 mounting screws included).
2-wire interface.
Maximum cable length: 1,000 ft (304.8 m)
Operating temperature: -13 to 131°F (-25 to 55°C).
Dimensions (WxDxH): 2.91x1.97x4.84 in (74x50x123 mm)
Input voltage: 6 to 15 VDC
Current consumption: 90mA @ 12VDC
Includes 12V/1A country-specific power supply.
Compatible with E-MINI-LXO and PWR-RMT-RBT-C13.
Downloads & References