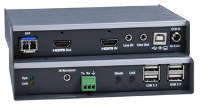 ST-IPFOUSB4K-LCVW
—The XTENDEX® 4K HDMI USB KVM Extender over IP via Fiber provides remote KVM (USB keyboard, USB mouse and 4Kx2K UHD HDMI monitor) access to a USB computer up to 9,842 feet (3,000 meters) away via a duplex LC singlemode fiber optic cable and 1,804 feet (550 meters) using multimode fiber optic cable. The local and remote units can be connected together for a Point-to-Point connection via fiber cable, or a Point-to-Many or Many-to-Many connection via a managed Gigabit SFP switch. Supports video wall installations from 1x2 to 8x16 screens.
Downloads & References

NOTE
: Transmitters and receivers must all be running the same version fo firmware for them to work with each other.