Environment Monitoring System Gas Detectors
Gas Detection Sensors compatible with ENVIROMUX® E-MINI-LXO and E-MICRO
Carbon Monoxide Detector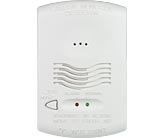 Continuous air monitoring.
Pre-set alarm points alert at:

70 ppm after 60 to 240 minutes
150 ppm after 10 to 50 minutes
400 ppm after 4 to 15 minutes

Flush or surface mount.
Test functionality of electrochemical CO sensing cell.
Connect to RJ45 or digital input sensor ports.
Screw terminal

To connect to the digital inputs use a 22 AWG 2-wire cable. Connect the other end to the sensor screw terminal.

LED indicators for operation status and system test.
Includes 12V/1A power supply.
Compatible with E-MINI-LXO and E-MICRO.
Regulatory approvals: UL
Downloads & References
Gas Detector — Natural Gas, Methane, Butane, Propane, Hydrogen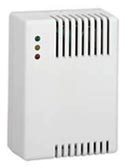 Use to detect leaks of combustible gas (natural gas, methane, propane, butane, hydrogen, acetylene, etc.)
Choose between two levels of detection:

First level:

Methane: 10±3% LEL (0.44% vol. conc.)
Propane: 18±3% LEL (0.30% vol. conc.)
Iso-butane: 23±3% LEL (0.30% vol. conc.)
Hydrogen: 9±3% LEL (0.36% vol. conc.)

Second level:

Methane: 18±3% LEL (0.80% vol. conc.)
Propane: 30±3% LEL (0.50% vol. conc.)
Iso-butane: 40±3 % LEL (0.50% vol. conc.)
Hydrogen: 16±3% LEL (0.66% vol. conc.)

Continuous air monitoring.
Audible alarm signal: 94 dB at 1 foot.
Relay specifications: level selectable, normally open or normally closed, 250V AC, max 5A.
Maximum cable length: 1000 ft (305m)
Includes 12V/1A power supply.
Compatible with E-MINI-LXO and E-MICRO.
Regulatory approvals: CE
Downloads & References
Hydrogen Gas Detector
Use to detect leaks of hydrogen gas in battery monitoring/charging rooms, substations, uninterruptible power supplies (UPS), and hydrogen fueled back-up power systems.
Alarm set point: 10% LEL hydrogen gas.
SPDT Alarm and normally-closed output relay.
Self-restoring or latching options.
Sensor requires no maintenance or recalibration.
Includes mounting hardware.
Voltage supply: 12 to 24 VDC or VAC.
Operating temperature: 32 to 120°F (0 to 49°C).
Dimensions WxDxH (in): 4.5x5x1.63 (114x127x41 mm).
Includes 12V/1A power supply.
Compatible with E-MINI-LXO and E-MICRO.
Downloads & References