Server Environment Monitoring System RTD Sensors
RTD Temperature Sensors & Transmitters compatible with ENVIROMUX® E-2D, E-5D and E-16D
PT100 RTD Transmitters
100 Ohm Platinum RTD Transmitter, -20°F to 140°F or 30°F to 240°F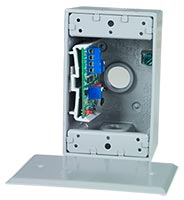 Use to connect 100 Ohm RTD temperature sensors to the E-2D/5D/16D.
Available temperature ranges:

E-RTDT-140: -20 to 140°F (-28 to 60°C).
E-RTDT-240: 30 to 240°F (-1 to 115°C).

Accurate to within ±0.8°F (±0.45°C).
Configuration: 2-wire connection
Sensor Element: 100Ω platinum
Signal Output: 4-20 mA, loop-powered
Requires the E-S420MA-24V and an RTD sensor probe to operate with the E-2D/5D/16D.
Single gang weather resistant enclosure.
Dimensions WxDxH: 2.81x4.50x2.13 in (71x114x54 mm)
Regulatory approvals: CE
Downloads & References
High-Accuracy 100 Ohm Platinum RTD Transmitter, -328°F to 1562°F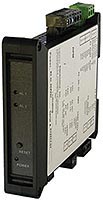 Use to connect 100 Ohm platinum RTD temperature sensors to the E-2D/5D/16D.
Temperature range: -328 to 1562°F (-200 to 850°C)

When used with the E-2D/5D/16D, the supported range is -89 to 738°F (-67 to 392°C. Call an NTI product consultant to have the range expanded on the ENVIROMUX system.

Accurate to within ±0.2°F (±0.1°C)

If the connected RTD sensor does not support this high of accuracy, the system will revert to the accuracy of the sensor.

Configuration: 2, 3, or 4-wire connection
Sensor Element: 100Ω platinum
Signal Output: 4-20 mA
Requires the E-S420MA-24V and an RTD sensor probe to operate with the E-2D/5D/16D.
Din rail mount housing.
Dimensions WxDxH: 5.08x4.09x0.89 in (129x104x23 mm)
Includes pre-stripped country-specific line cord with tinned strands.
Operating temperature: 32 to 131°F (0 to 55°C).
Storage temperature: -40 to 185°F (-40 to 85°C).
Downloads & References
PT100 RTD Sensors
Sensor Accessories
4-20mA Sensor Converter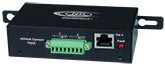 External RJ45 device monitors up to two 4-20 mA analog sensors
Supports ISA Type 2, ISA Type 3, and ISA Type 4 sensors
Provides 24VDC, 25mA for each sensor
Connector: Screw Terminal, 8-position.
Supports CAT5/5e/6 cable up to 1,000 ft. (305 m)
Includes Mounting Hardware
Dimensions (WxDxH): 4.15x2.3x1.2" (105x58x30 mm)
Powered by E-2D/5D/16D.
Compatible with E-2D/5D/16D.
Regulatory approvals: RoHS.
Compatible with E-FSC Fiber Converter/Extender.

Use to extend sensor up to 1.2 miles (2 km) from the ENVIROMUX unit.

Requires the E-RTDT-140/240/1562 and E-S420MA-24V to operate with the E-2D/5D/16D.

E-RTDT-140 supports temperatures -20 to 140°F (-28 to 60°C).
E-RTDT-240 supports temperatures 30 to 240°F (-1 to 115°C).
E-RTDT-1562 supports temperatures -328 to 1562°F (-200 to 855°C).
Downloads & References