Environment Monitoring System Under Carpet & Tape-Style Leak Detectors
Liquid & Water Detection Sensors compatible with ENVIROMUX® E-2D, E-5D and E-16D
Under Carpet Leak Detector
Use to detect conductive fluids and moisture under carpets.
100% waterproof electronics.
Dimensions WxH: 1.75x0.06" (44.45x1.59 mm).
Available 2-wire plenum cable lengths: 1/10/25/50/100/200/400/600/1000 feet.
Regulatory approvals: RoHS.
Downloads & References
Tape-Style Liquid Detector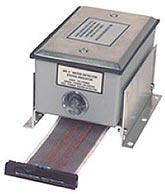 For detecting water presence and warning of flooding.
Uses a self-adhesive sensor tape with copper fiber electrodes and a durable netted cover for dependable detection of conductive liquids.
Continuous tape integrity self-check.
Minimum puddle: 0.125" (3 mm) diameter.
Weather resistant enclosure.
Floor or under-pipe mounting.
Available tape sensor lengths: 10/25/50/100 feet.
Current consumption: 60mA @ 12VDC.
Powered by E-2D/5D/16D.
Downloads & References