Environment Monitoring System Spot Leak Detection Sensors
Spot Leak Detectors
Spot Liquid Detector, Point Leak Detection Sensor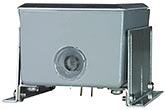 For detecting water presence and warning of flooding.
Compatible with ENVIROMUX-MINI-LXO and ENVIROMUX-MICRO.
Features gold-plated probes and microchip technology for dependable detection of conductive liquids.
SPDT alarm contacts
Weatherproof enclosure
LEDs for power and alarm indication
Ideal solution for sensing leaks under a raised computer floor or air conditioning drip pans.
Use in large-scale network control centers, data centers, server rooms/closets, unattended remote shelters, mechanical equipment rooms, sensitive areas with overhead piping, industrial process control rooms, etc.
Adjustable detection level.

Probe height adjustable 0" to 1.5" (0 to 38mm)

Current consumption: 10mA typical, 30mA maximum @ 12VDC.
Maximum cable length: 1000 ft (305m)
Dimensions WxDxH: 3.75x4.5x4.23 in (95x114x107 mm)
Includes 12V/1A power supply.
Regulatory approvals: CE
Downloads & References
Compact-Size Spot Liquid Detector, Point Leak Detection Sensor
Use to detect fluids in confined areas, such as condensation drip pans.
Compatible with ENVIROMUX-MINI-LXO and ENVIROMUX-MICRO.
SPDT alarm contacts
One generic relay output
No exposed metal sensing posts – nothing to rust or corrode
Potted electronics — functions when submerged in water
Adjustable detection level.

Probe height adjustable 0" to 0.75" (0 to 19mm)

Dimensions WxDxH: 1.55x1.0x2.0 in (39x25x51 mm)
Cable length: 14 feet

Maximum cable length: 1000 ft (305m)

Includes 24V/0.5A US power supply
Regulatory approvals: CE, RoHS
Downloads & References
Spot Liquid Detector with Built-In Visual & Audible Alarm
Use to detect conductive fluids in confined areas

Place the sensor on a flat surface under HVAC equipment, dishwashers, washing machines, refrigerators, compressors, or electrical switchgear rooms and other potential leakage areas.

Compatible with ENVIROMUX-MINI-LXO and ENVIROMUX-MICRO.
Water level detection range: 0.03 to 0.53" (0.79 to 13 mm).
DPDT alarm contacts.
Audible alarm signal: 85 dB at 1 foot distance.
Red LED for visual alarm signal.
Green LED for power
Current consumption: 30mA typical, 85mA maximum @ 12VDC.
Dimensions WxDxH: 2x4.13x0.19 in (51x105x30 mm).
Includes adjustable mounting bracket attached via adhesive strips or two screws.
Operating temperature: 32 to 140°F (0 to 60°C).
Includes 12V/1A power supply.
Cable length: 4.9 ft (1.5 m)

Maximum cable length: 1000 ft (305m)

Regulatory approvals: CE, RoHS.
Downloads & References