Secure Remote Power Control Unit with Environmental Monitoring Sensors & Accessories
Temperature/Humidity and Water Detection Sensors compatible with ENVIROMUX® IPDU-Sx
Temperature Sensor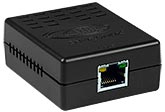 Applications from 32°F to 122°F (0°C to 50°C).
Accurate to within ±0.9°F (±0.5°C).
High resistance to external influences on the cable due to digital output signal.
Re-calibration is not necessary after initial set-up.
Includes mounting hardware.
RJ45 connector.
Supports CAT5/5e/6 cable up to 1,000 ft. (not included).
Powered by E-SEMS-16, SERIMUX-S-x, or IPDU-S2.
Regulatory approvals: CE, RoHS
Compatible with E-SEMS-16, SERIMUX-S-x, and IPDU-Sx only.
Liquid Detection Sensors
Liquid Detection Sensor
For warning of flooding.
100% waterproof electronics.
Detects any conductive liquid.
Puddle: 0.6" diameter.
Detects liquid depth >0.1".
Available water sensor cable (x) lengths: 1/10/50/100/200/400/600/800/1000 feet.
Available 2-wire cable (y) lengths: 5/10/20/50/100 feet.
Regulatory approvals: CE, FCC, RoHS
Downloads & References