Environment Monitoring System Access Control
Access Control Systems & Accessories Compatible with ENVIROMUX® E-MINI-LXO &
PWR-RMT-RBT-C13
Access Control Systems
Fingerprint Access Control System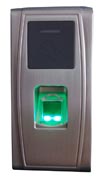 Biometric fingerprint reader with durable and highly accurate optical sensor.
Quick single touch, one second user recognition.
Alarm, door, and egress button contacts.
Selectable 26-bit or 34-bit Wiegand data input and output.
Audio-visual indicators for acceptance and rejection of valid/invalid fingerprints.
Stores up to 600 fingerprint templates and 15,000 transactions.
Built-in serial, USB, and Ethernet ports for RS232/RS485, USB Host, and TCP/IP communication.
Includes the following management software:

Access Control Software

Import and export all user data, and set up sensor settings and delay.
Keeps logs of all user entries.

Attendance Management Software

Configure employee schedules and monitor and download access logs.

Tamper-proof.
IP65 rated.
Compatible EM cards (E-RFID-CRD10) and keyfobs (E-RFID-KYFB10) are available in packs of ten.
Includes 12V/1A power supply.
Operating temperature: 14 to 140°F (-10 to 60°C).
Operating humidity: 10 to 90% non-condensing RH.
Dimensions (WxDxH): 2.87x1.38x5.83 in (73x35x148 mm).
Compatible with E-MINI-LXO and PWR-RMT-RBT-C13.
Regulatory approvals: CE, FCC, RoHS.
Access Control Digital Keypad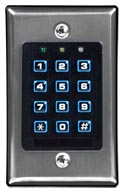 Two relay outputs controlled by two groups of independent user codes.

Output 1: 12V3A relay for door strike

Requires 12VDC external power supply (not included).
The use of Output 1 will not provide support for alert messages through the ENVIROMUX.

Output 2: 1 Amp relay for other control applications.

Normally closed and normally open dry contact for output relay #2.
Operate with fail-safe or fail-secure locking device.
LED indicators for operation status and system status.
Door open announcer.
Non-volatile memory in case of power failure.
Door automatically re-locks after valid access to prevent "tailgate entry".
User Codes:

Output 1: 100 user codes.
Output 2: 10 user codes.

Duress code for door opening and reporting in the event of the owner opening the door under duress.
Multi-task super user code for inhibiting (refuse access with user codes), overriding door lock (keep door open); and operating the two outputs under any condition.
Includes 12V/1A power supply.
Compatible with E-MINI-LXO and PWR-RMT-RBT-C13.
Dimensions (WxDxH) in: 2.83x1.69x4.57 (72x43x116 mm).
Downloads & References
RFID EM Cards/Keyfobs
Supports additional users for RFID Access Control Keypads.
Code: 64 bit.
Function: read only.
Operating frequency: 125 Khz.
Modulation: ASK.
Quantity: 10 cards/keyfobs.
Dimensions (WxDxH) in:

E-RFID-CRD10: 2.09x0.07x3.35 (53.6x1.9x85.2 mm) each.
E-RFID-KYFB10: 1.10x0.24x1.38 (28x6.2x35 mm) each.

Compatible with E-FACS-P, E-ACKR-P and E-ACKR-WDB-P.