Environment Monitoring System Vibration & Glass Break Sensors
Rugged Vibration Sensor – Detect Over- or Under-Vibration in Machinery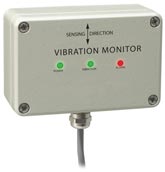 For registering over- or under-vibration in machinery such as large motors, gear boxes, turbines, pumps, blowers, crushers, compressors, blenders, hammermils, and conveyors.
Adjustable over/under alarm sensitivity: 0.1 to 2.2 in/s (2.5 to 55 mm/s) rms.
Minimum vibration frequency (-3db): 10 Hz.
Maximum vibration acceleration: ±1.76 oz (±50 g) peak.
Isolated NPN output is fail-safe.
Screw terminal.
Cast aluminum enclosure is rated NEMA 4X.
Includes 24V, 1.5A power supply.
Operating temperature: -40 to 185°F (-40 to 85°C).
Dimensions WxDxH (in): 3.94x2.56x1.66 (100x65x42 mm).
Downloads & References
Fence Vibration Sensor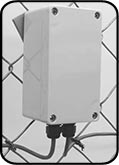 Detects when individuals climb over or cut through chain link or wire mesh fences.
Advanced built-in signal processor prevents false alarms.
Four sensitivity settings to tune each sensor to a particular fence section and intrusion type.
Two open-collector outputs – alarm and power failure.
UV resistant case and epoxy sealed electronics provides maximum resistance to harsh environments.
Rated NEMA 4X and UL94 5V.
Use individually or chain units with each ranging from 40 to 60 feet away.
Includes mounting brackets for installing the sensor to fence fabric.
Screw terminals.
Powered by ENVIROMUX-2D/5D/16D.
Operating temperature: -4 to 131°F (-20 to 55°C).
Operating voltage: 9-15V DC.
Downloads & References
Glass Break Detection Sensor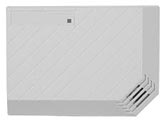 Acoustically detects the cracking of common framed glass types such as plate, tempered, wired and laminate.
Adjustable sensitivity and digital signal processing for greater detection sensitivity and improved false alarm immunity.
Includes mounting hardware for wall and ceiling.
Detection range: 25 feet.

Reduced by drapes and/or blinds.

Connect to RJ45 or digital input sensor ports.
Screw terminal

To connect to the RJ45 inputs use CAT5/5e/6 cable terminated at one end with RJ45 connector. Connect the unterminated end to the sensor screw terminal.

Maximum cable length: 1,000 ft (305 m).
Powered by ENVIROMUX-2D/5D/16D.
Downloads & References